Men's Well-Being
What is Men's Well-Being?
"Men's Health" encompasses any health issue that primarily relates to men, as well as promoting health strategies to prevent health concerns (including public health initiatives, public policy, social justice campaigns, medical and psychological care, and many others).

"Men/Man" vs "Male" vs "Masculinity" (and pronouns)
Terms like these (see heading) are often associated with each other, but they all mean different things. The language/terminology we use can be useful, and it is important to remain intentional about how we describe each other.

"Men/Man" refers to gender (socially constructed)
"Male" refers to sex and often sexual organs
"Masculinity" refers to the social expectations of people based on their perceived gender and/or sex.
Men's Well-Being at UCSD
Men at UCSD experience the same risk factors as men across the nation, so it is important to take charge of your health and well-being now. Generally speaking, men are more likely than women to:

Smoke and drink
Make unhealthy or risky choices
Put off regular checkups and medical care
Additionally, some people experience unique health concerns related to the health of their bodies (penis, testicles, prostate, etc.) and the capability of their life systems (hormones, erectile functioning, mental and emotional well-being, etc.) that require targeted education and interventions. You may be thinking, "But I'm young and in college, I shouldn't have to worry about this for many years!"  While it may be true that men who are middle-aged or older are at higher risk of being diagnosed with these conditions, it is important for young adults to take preventive measures now, in order to promote healthy functioning over their lifespan.

Men's Well-Being and Academic Success
According to the results from the National College Health Assessment, men at UCSD have identified the top five factors that impact their academics, which are shown below.
Top 5 Factors Negatively Impacting Men's Academic Success at UCSD*
Stress

Sleep Difficulties

Anxiety

Internet Use/Computer Games
*Ranked in order of negative impact amount, starting with the highest.
Source: ACHA-NCHA IIc, UCSD Executive Summary - Spring 2019

If you would like to learn more about how to prevent these negative factors from impacting your academics, the following resources might be helpful:

Men's Health and Well-Being Video Library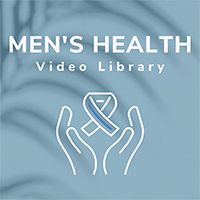 Check our YouTube playlist containing men's health and well-being video resources on a variety of topic areas that influence college men's health, emphasizing UCSD resources, services, and opportunities for involvement.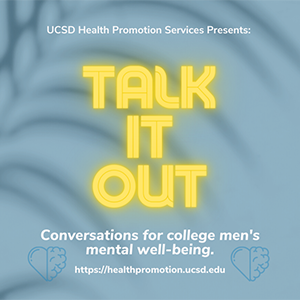 "Talk It Out" is a monthly YouTube video series promoting men's health with a focus on mental and emotional well-being for college men, featuring the humans of UCSD (our staff, faculty, and students). Subscribe to our channel for updates when new videos are released!