Tritons Well
The Tritons Well series is a 6-part series that helps to transition new students to the UC San Diego (UCSD) community. The information you gain from this series will help you succesfully navigate your time at UCSD. The Tritons Well Series is facilitated by the staff of Health Promotion Services. All first-year students and new transfer students are highly encouraged to complete each unit of the series. Below you will find more information about the series. For questions, please email hps@health.ucsd.edu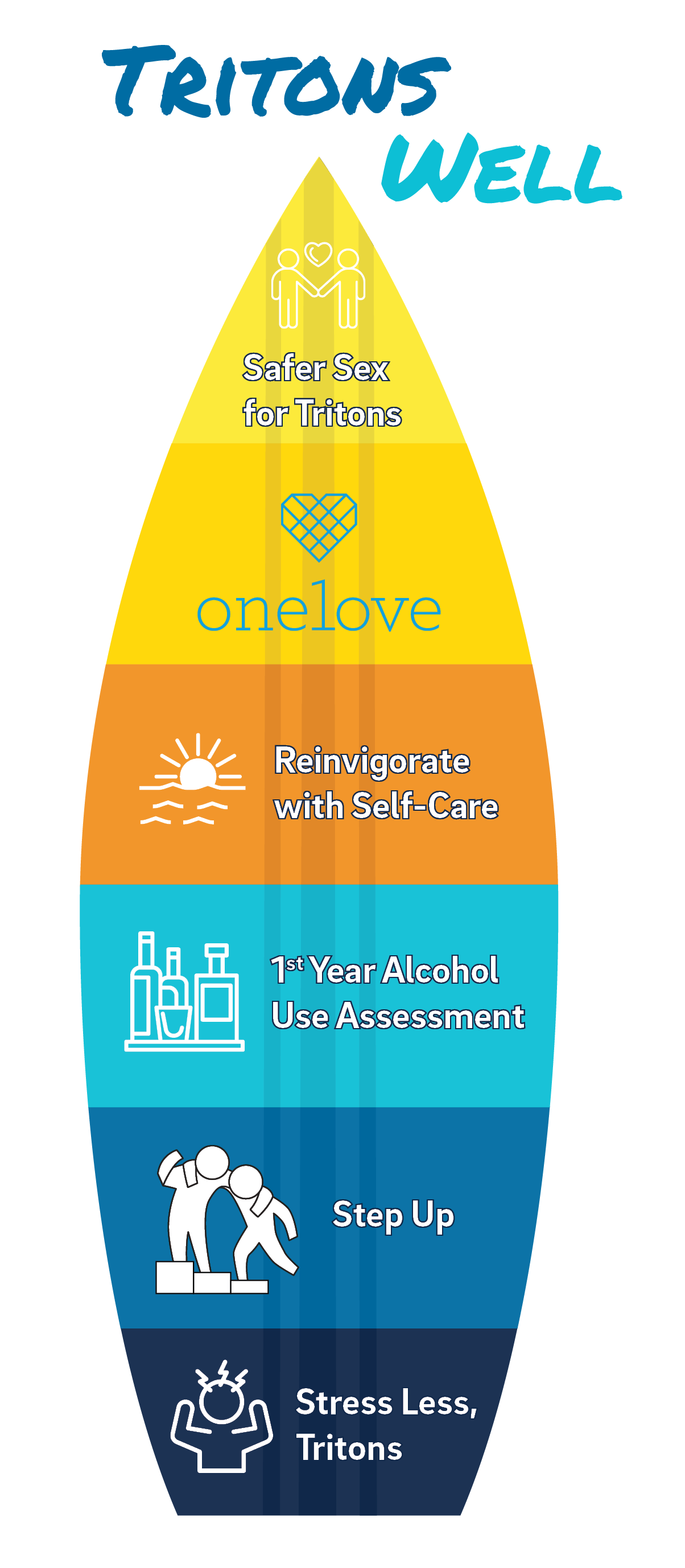 Safer Sex for Tritons: Learn the basics of safer sex and campus resources available to help students practice safer sex.
One Love: Escalation is a film that honestly and compellingly tells the story of an abusive relationship — from its sweet beginnings to the tragic end. The authentic depiction of unhealthy behavior escalating into violence helps you understand and recognize the early signs of relationship abuse. The 40-minute screening is followed by a guided discussion.
Reinvigorate with Holistic Self-Care: Join in on this interactive workshop where we'll work together to brainstorm feasible and realistic self-care strategies to help you reconnect with and reinvigorate your AMAZING self!
1st Year Alcohol Use Assessment: Impact uses the latest evidence-based prevention methods to create a highly engaging learning experience, inspiring students to make healthier decisions related to alcohol, cannabis, e-cigarettes, and other drugs. Students will be able to learn about their usage and set goals to make healthier choices, this program will take approximately 20-25 minutes to complete. To complete the survey please use the link below, if you have already completed it via your Triton Checklist you do not need to complete it again. Survey: 1st Year Alcohol Use Assessment
Step Up: Learn the tools to be an active bystander and Step Up against sexual harassment/violence, discrimination, hazing, or substance misuse. Tritons look out for one another.
Stress Less, Tritons: Join us in an interactive workshop where we talk about all things stress -- its role in our lives, ways to manage it, and strategies for reframing the way we think about it!